The way we work has undergone a significant transformation in recent years. More and more organisations, teams, and individuals are embracing the concept of remote work with flexible working hours and locations, resulting in the emergence of hybrid collaboration models. However, for organisations that want to adopt a hybrid workplace model, the entire processes from curating the appropriate workspaces for employees and team, negotiating, contracting and managing budgets is a daunting, expensive, and a time-consuming initiative. This is where GoFloaters WorqFlexi comes into play.
GoFloaters WorqFlexi provides organizations with the opportunity to embrace the essentiality of hybrid work without the hassle and administrative overheads. With GoFloaters WorqFlexi organizations are able to source inventory of work and meeting spaces from across 300 brands of coworking across 40 + cities through one platform.
Not only does WorqFlexi made it easy for organizations to emrbace hybrid working it also helps save on office rentals as compared to traditional rental models. Check out this chart to understand the cost savings of WorqFlexi vs Traditional Space 👇 rental model by organizations.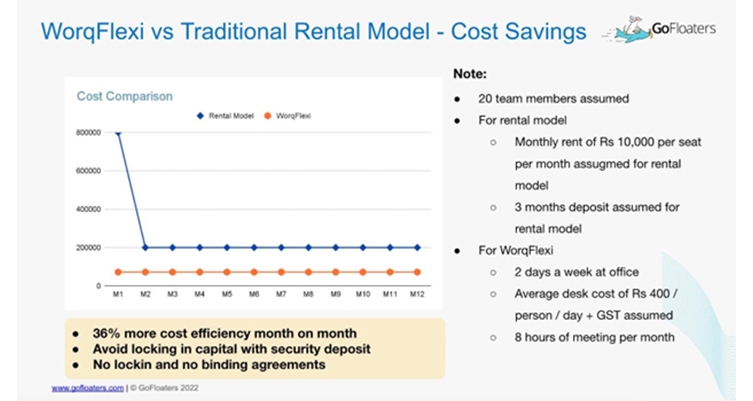 What is WorqFlexi?
GoFloaters WorqFlexi is a comprehensive cutting-edge platform that is revolutionizing the way businesses manage hybrid space management for their teams and employees. This is an all-in all that provides businesses a single dashboard and data based tools that makes the space management and data-driven decisions easy.
WorqFlexi works by giving companies one access point giving them access to all the GoFloaters spaces across the country. GoFloaters is a hybrid workplace platform that has been helping businesses and teams book a space of their choice from over 2000+ coworking spaces, meeting rooms and monthly rental offices across 40+ cities in India.
What does WorqFlexi offer?
WorqFlexi offers a wide spectrum of solutions that cater to varying needs that different organizations have.
A solution for every company! Yes, you read that right!
Hybrid - On-demand spaces easily accessible by distributed teams
Hub & Spoke - A HQ & satellite offices and on-demand spaces for co-located and distributed teams
100% Office - A HQ for every team with 100% flexibility
WorqFlexi lets you monitor your office usage on a real-time basis and helps you make data driven decisions.
How GoFloaters WorqFlexi Operates?
Single pass for the entire team that gives access to all GoFloaters spaces
GoFloaters WorqFlexi is designed to offer organizations a flexible and cost-effective alternative to traditional office rentals.
By using a single pass, organizations can effortlessly access over 2000 coworking and meeting rooms in more than 40 Indian cities across Tier 1, Tier 2, or Tier 3 locations, providing maximum flexibility.
With WorqFlexi, users can choose from a range of workspaces including coworking hot desks, meeting rooms, and event spaces, and book them on an hourly, or daily, basis as per their requirements. The solution is ideal for startups, small and medium-sized businesses and any organization that has distributed teams who need multiple flexible workspaces without long-term leases.
Advantages of adopting WorqFlexi for organizations and its beneficiaries
GoFloaters WorqFlexi is designed to provide a configurable booking platform that allows organizations to easily provision, manage and access coworking and meeting spaces across India. The solution offers a user-friendly platform that enables businesses to configure their bookings with rules, budgets, and approved spaces.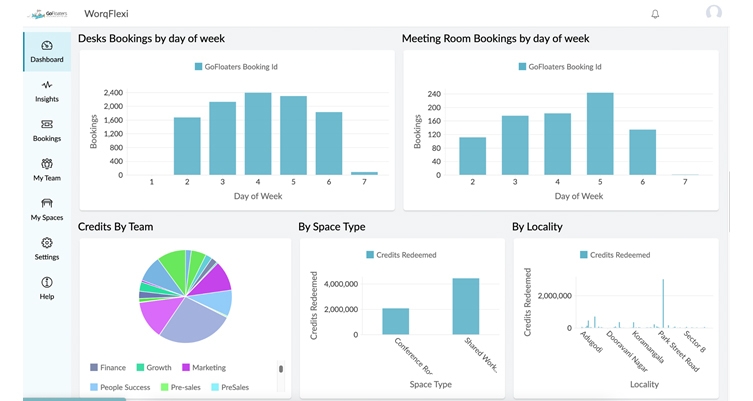 This means that organizations can tailor their bookings to suit their specific needs, whether that's limiting bookings to specific teams, setting up approval processes for bookings, or allocating budgets to different departments or teams. With this level of configurability, businesses can easily manage and monitor their workspace usage, ensuring that they are making the most of their investment.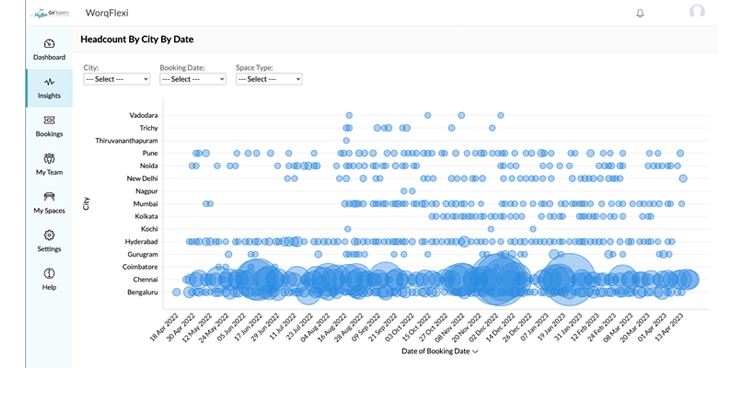 By offering a configurable booking platform, GoFloaters WorqFlexi makes it easy for businesses to manage their workspace usage and ensure that they are getting the most value from their investment.
The data insights also help you understand what works for your teams. Insights related to which spaces they prefer, when they prefer to collaborate and for how long, which teams prefer in-person work and trends of how many days a week your teams are happy to come to office all are available through the extensive dashboard.
Benefits of WorqFlexi for employees and organizations
For Employees
Better team productivity and collaboration
By enabling employees to work closer to clients and co-workers more easily, you can reduce travel time and hassle for employees. Our spaces are equipped with meeting rooms and other collaborative tools, facilitating communication and teamwork among employees.
Freedom and flexibility
An office next door
With WorqFlexi, employees can effortlessly discover the ideal workspace that meets their specific requirements. WorqFlexi also provides the flexibility to choose workspaces closer to their homes or other necessary locations.
Easy-to-use & Efficiency Enhancing
WorqFlexi provides the flexibility for advance or recurring reservations of our fully-equipped meeting rooms. Workspaces come equipped with all the necessary amenities to ensure a smooth, efficient and productive work experiences.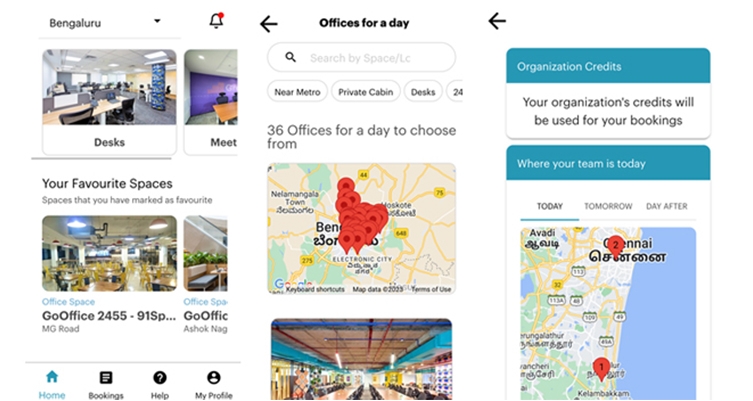 For Organizations
Largest workspace network of vetted and reliable locations
Gain entry to more than 2000 coworking and meeting rooms located across 40+ cities in India, spanning Tier 1, Tier 2, and Tier 3 regions designed for your team's comfort and convenience. Locations requiremements are customizable as per the organization needs.
On-demand workspace (or) Pay-per-use model with no contracts or commitments:
No commitments, pay only for the space usage by your employees, and no hidden cost to the company. This option eliminates the need for lease agreements, deposits, utility charges, lock-in periods, etc. with flat per-usage pricing. Enjoy cost savings of up to 60% by paying only for the time and space you need.
Save on real estate/operations and utility spending:
WorqFlexi enables companies to save over 60% on office real estate costs, increase productivity by offering flexible work options, and scale workspace requirements to meet changing business needs. Employers can also reduce operational expenses by choosing the workspaces that suit the budgets.
Streamlined booking and management
With WorqFlexi, you can control budget, usage, as well as access. Administrators of the adopted model can have control and access to space usage, billing, bookings and can track utilization giving them a complete autonomy for decision making and transparency. Get access to data that will help you make better decisions for your team and your business.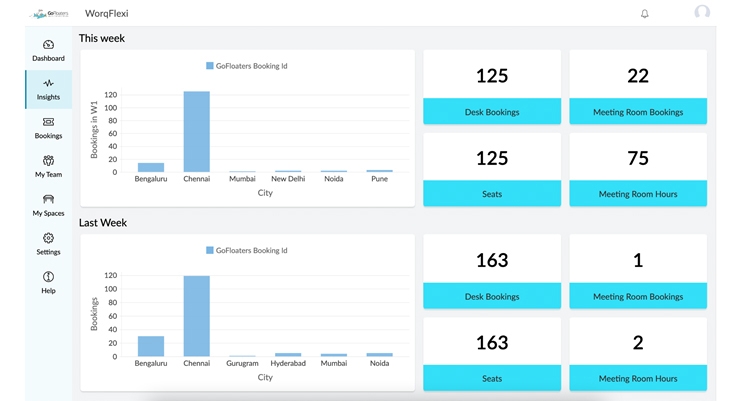 Simple financial process
Employees no longer have to worry about spending from their pocket and getting the spends reimbursed. Organizations get to avoid complicated approval and reimbursement processes that not only adds overhead but also discourages employees from using coworking spaces.
Scalable & Flexible
WorqFlexi's flexible pricing model allows you to start with the pay-per-use or pay-as-you-go option, which provides a cost-effective way to manage workspace expenses. As your business grows, you can scale up to larger workspace options. With WorqFlexi, you can tailor your workspace expenses to fit your business needs and budget.
Reduces environmental impact
WorqFlexi helps employees save on commuting expenses such as fuel, parking fees, and public transport fares. Moreover, it also helps reduce carbon footprint by minimising travel emissions and office waste.
Who's been using it?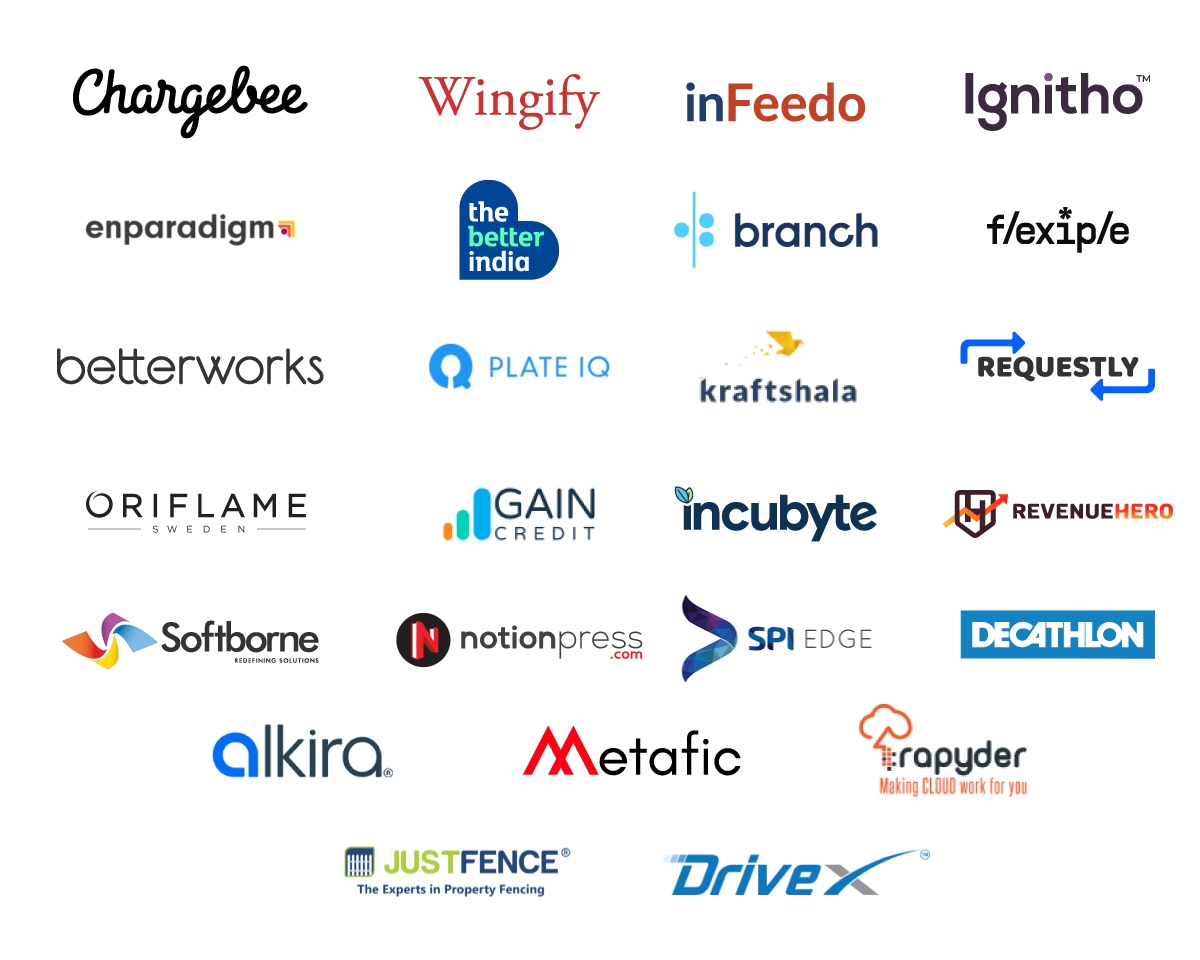 WorqFlexi is the future of work, and GoFloaters is the platform that is making it possible. In conclusion, this platform is not only a powerful valuable tool for businesses to manage on-demand spaces, but it is also a key tool in promoting employee success and supporting HR teams and people managers in their efforts to create a flexible and collaborative work environment.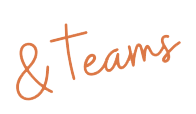 Your employees can now
work from anywhere
Request a demo