We have seen plenty of return to office 🏢 calls to actions from the biggies across the continents. You would have seen them coming in different variations. If you are thinking about returning to the office for your team, then you should be wondering how to structure it.
What are US companies doing?
The delta variant has its grip in the US now. This has certainly delayed the return to office plans of many companies. Some companies are still pressing on with their plans. are
Amongst the staunch supporters of "fill the office" plans are Wall Street banks and institutions. Morgan Stanley and JP MorganChase have largely stuck to their plans. They are requiring their employees to come back to the skyscrapers. Morgan Stanley has mandated the vaccination of its employees before they come into the office. BlackRock and Wells Fargo are working on plans for their U.S. staff to return to offices by about a month to October. Citigroup reinstated a mask mandate for U.S. employees.
Google announced that they would be expecting their employees to be at the office 3 days a week. Initially they had plans to bring their employees back by September. Due to the surge in cases from the delta variant they have now pushed this plan to October. Google left the teams to organize themselves and decide which days of the week they would want to be at the office. Workers who come to its campuses will be required to submit a proof of vaccination, CEO Sundar Pichai.
Apple came out with a much more definitive return to office plan. Apple wanted its employees at the office 3 days a week just like Google, but they went a step further and said that those 3 days would be Monday, Tuesday and Friday. This definitive plan picked up a lot of negative reactions from its employees. Apple too has pushed its plans to October. Apple is mandating masks for both employees and customers at all of its US retail stores.
Uber, the San Francisco-based company postponed its return to office date to October 25 from September. They have also told their employees it could be further delayed. Uber also will require employees in the office to be vaccinated and to wear a mask.
What are Indian companies doing?
We covered in another blog post on how remote working was ending for Indian IT companies. The big IT players like Infosys, Wipro and TCS are pressing ahead with their return to office plans. All of them are just waiting to get a majority of their employees vaccinated. They expect to get this done by September. Post this we should see them calling their employees back to the office.
On the other hand, many growing startups have shown even further commitment to remote work after wave 2 of the pandemic. Amongst the big names, Zerodha, Instamojo and Wingify have come out strongly in support for distributed and remote working.
Companies like NotionPress are really walking the talk when it comes to giving their employees the flexibility to work from anywhere. They are working with GoFloaters to provide their employees access to professional coworking spaces in Chennai and across the country. They have seen team bonding increase tremendously with this model. At the same time they have also been able to save on office rent.
Which model of work is winning in the post-COVID world? Is it hybrid working or remote work or is it going back to the office? Our detailed cover on this topic is worth a read. Read our post Office, Hybrid, Remote - And the Future of Work winner is 🏆…
GoFloaters Survey Results
We ran a survey on LinkedIn and Twitter to collect responses from employees of various startups and companies on which days of the week they would love to be at the office. We saw very interesting results.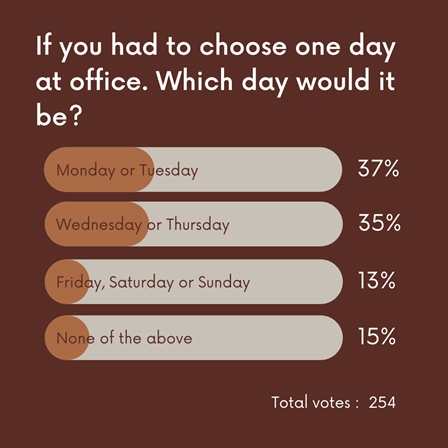 Only 15% said that they would not want to go to the office!! Possibly because we combined Friday, Sat and Sun only 13% wanted to be at the office one of these days.
Looks like the respondents were looking forward to being at the office at-least once a day.
Over to you now
There is no one-size-fits-all answer to return to office policy. Each company is figuring this out. Even the ones that seem to have a clear approach will end up tweaking this over the next few months. If you are looking to assess what works for your company, then the Work From Anywhere Toolkit could be a great starting point.