Tired of meeting your team on earth? Want to shift the orbit? Not talking about the Elon Musk future here. There is a future which is happening now. You could have an office in the cloud instead!! Metaverse is here and one of the prime use cases for it is having your office and all the collaboration happening on it. This is not the future, it is here now and there are tools that you can use now.
Image Credits : SoWork
While the technology is here and it is certainly fun. In fact we at GoFloaters had a swing at creating an office on the cloud with Qube. It was fun creating it and using it even. So is this just a fad or is this the future? Read on.
Facebook renamed themselves to Meta in Oct 2021. The entire tech world was drooling over metaverses. Why did Facebook become Meta? More fundamentally, what is metaverse?
"A metaverse is a network of 3D virtual worlds focused on social connection. In futurism and science fiction, it is often described as a hypothetical iteration of the Internet as a single, universal virtual world that is facilitated by the use of virtual and augmented reality headsets. " - Wikipedia
Simply put, metaverse is a more expansive and immersive version of the internet. Some of you may have heard about Second Life. It was created in 2003 and became a rage in 2013 with over a million users. In Second Life you create an avatar of yourself and live in a virtual world interacting with objects, places and other avatars there. You could even run a business in this virtual world and make virtual money!!
So what is new then this time?
Let's say you wanted to visit the Louvre Museum in Paris with your kids. You could dress up yourself and your kids with clothes bought virtually at a metaverse store operated by say Levis and then go to the museum and experience the visit all virtually sitting in your home in Hubli. Different parts of this virtual world may be created by different companies but this time around there could be interoperability. This virtual world being a world that will be accessible by any one in the world then the entire digital economy that would back this will have to be reimagined. This is where the crypto, blockchain and NFTs all could come together to play a vital role.
There are two reasons why Facebook is changing itself to Meta. Reason 1, Mark was jealous of all people changing their titles every 2 years on LinkedIn. He has been having the same title for 17 years!! He wanted a change 😀 The second more important reason is here in the Verge article.
So when you can visit the Louvre Museum, why not your HQ? COVID has made this use case an interesting one for many companies to invest into creating it. They see "office in the metaverse" as being equivalent to building WeWork virtually and making tons of money from it. In fact this use case is so top of the list that Mark Zuckerberg even spoke about this in length when he announced Facebook was becoming Meta.
Imagine you could be sitting in a coffee shop in Bangalore. The designer of your product is sitting in the Philippines and the product manager is in Salt Lake City, Utah. You could all be sitting on the same table in your office virtually collaborating and brainstorming virtually.
You say, "Hey, there is Zoom for it and I hate it." Well metaverse tools take this collaboration experience to the next level. Your avatars in your metaverse office can actually be stepping to the whiteboard and wireframing the screens. As your meeting gets over you (your avatar) decides to take a coffee break. Who do you see there at the pantry? Your college mate who has joined your company recently. You could walk up and have a quick conversation. Water cooler conversations and casual conversations are back in the metaverse.
Does this excite you or does this scare you? We are still in the infancy of the metaverse and companies are letting their imaginations run wild in building tools that they think would have the right mix of "coolness" and "usefulness". The use case for office in the metaverse is real and I certainly feel there is a place for it. How else would companies that are born virtual and remote collaborate? You have to adopt newer technologies that make virtual teams more happy, engaged and productive.
Who is building Metaverse Offices? Everyone in the tech world it seems. Microsoft is working on bringing VR technology into Teams. Meta has built VR meeting rooms where attendees can virtually attend a meeting by wearing their Oculus headsets. While the biggies at it, what is more interesting is that this space is being revolutionized by startups.
Gather
Gather is a startup that shot to fame amidst the global pandemic. Gather offers a virtual environment reminiscent of retro video games where users create virtual spaces and video chat with people they meet there. You can either create a virtual space from a clean slate or use one of their pre-built templates. You could use objects like whiteboards, add videos and livestreams and share documents in this virtual space to collaborate with your team members.
Image Credits : Gather
Gather, founded in May 2020, has raised $77 million in total from investors like Sequoia and Next Play Ventures. In the blog post announcing the fund raise the CEO of Gather, Phillip Wang painted his vision of the future of office in the metaverse. "Many more people will have access to opportunity, as work and educational opportunities in the Metaverse will be open to anyone, no matter where they are," he said. "People will have more meaningful interactions with those they care the most about, as the Metaverse becomes a rich world with experiences to share together."
Teamflow
Teamflow was started by ex-Uber exec Florent Crivello. "Remote work is missing the joy, energy and fluidity of in-person interactions. But there's more to a virtual office than spontaneity — it needs to improve serious, scheduled meetings too." says Florent on why they started to work on Teamflow.
Image Credits : Teamflow
Team members' video bubbles move across a virtual floor plan to meet spontaneously with other team members or for scheduled interactions like brainstorming. You can use built in collaboration tools like whiteboard or an infinite canvas or bring in your existing docs and collaborate within the virtual workspace. You can even create context-aware meeting spaces that remain the same when you enter them the next time with all the relevant apps open. Hence you do get the feeling of owning these spaces.
SoWork
SoWork virtual HQ platform was started by Vishal Punwani and his team. While working on their edutech platform they felt the need for a better collaboration experience. Their love for gaming and virtual worlds made them build SoWork. In Oct 2021 they raised USD 15 Million to scale their platform. They also score Tinder as a main customer right in their early days.
Image Credits : SoWork
SoWork is one of virtualHQs that was created with a mission of reducing carbon footprint. Their tagline "Move your team from Earth 🌎 to Cloud ☁️" says it all. Imagine what would happen to carbon emissions if companies can build offices without teams and use virtual HQs or metaverse offices for building culture and collaboration?
SoWork sees users using the platform to "bring" themselves to work virtual for 20 to 30 hours a week for both synchronous and asynchronous interactions. In SoWork, teams can digitally recreate the layout of their physical offices for employees to gather and communicate. One creates an avatar of themselves that they can customize to their liking. A video feed automatically starts when avatars come near each other. The users can select whether to keep themselves in a private room, allowing their avatars to move away from each other without breaking the video connection between them.
Nowhere
Nowhere takes the virtual HQ experience into 3D. You can take beautifully crafted prebuilt 3D worlds and customize easily for your needs. Spatial audio and gaming-style navigation immerse you in the 3D worlds of Nowhere. Nowhere also lays emphasis on entertainment related use cases as much as it does to work related use cases. For example you can create a virtual museum where you can place your own artwork and company images as you like.
Image Credits : Nowhere
Nowhere's aim is to nurture more intimate life-like connections in an ever growing online world.
Accenture's Nth Floor
Accenture, a global professional services company, has pioneered its virtual office space called the 'Nth Floor'. This digital realm offers a blend of augmented and virtual reality experiences, designed to foster collaboration and innovation. Employees can interact in a virtual environment that mimics a physical office, complete with meeting rooms and social areas. This initiative has enhanced employee engagement and paved the way for a new era of remote collaboration.
Facebook's Horizon Workrooms
Facebook (now Meta) has developed Horizon Workrooms, a virtual reality meeting space designed for team collaboration. This platform allows users to join meetings as avatars in a 3D space, offering an immersive experience beyond traditional video conferencing. This innovation demonstrates how companies can leverage virtual reality to facilitate team interactions, irrespective of physical locations.
Microsoft Mesh for Teams
Microsoft introduced Mesh for Teams, integrating mixed reality into its popular collaboration platform, Microsoft Teams. This integration allows users to engage in shared holographic experiences, providing a more interactive and engaging way to conduct meetings and collaborate on projects. Mesh for Teams signifies a significant step towards blending the digital and physical workspaces.
As we race into 2022, technology is certainly taking center stage at our offices. The physical real estate is being made irrelevant in the new way of working that has been ushered in by the pandemic. One thing for sure is that there is no going back to the old ways. Is an office in the metaverse the answer to the culture issue and team bonding issue that remote teams are facing? Virtual worlds are for sure creating more intimate interactions than the ones that you can create through a Zoom or a Teams call. It is an interesting point in time when many new technologies including spatial audio, VR, blockchain and virtual worlds are being put together in ways previously unimaginable for us to be able to do experiments with something as fundamental as emotional bonding between team members.
---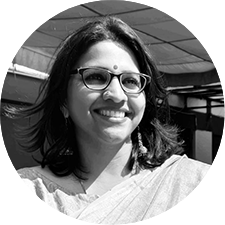 I hope this blog was informative
If you want to get in touch with us for your flexible space bookings,
👉🏽 click here