I am yet to find an entrepreneur or a freelancer who has not had his / her meetings at a cafe ☕️. My entrepreneurial journey is dotted with scores of meetings that I have had in cafe chains like Starbucks, Cafe Coffee Day, Barista and a few other outlets of smaller chains. From discussing design ideas with a freelancer to conducting interviews to meeting my mentors, I have done it all in cafes. I have some mixed experiences of having meetings at cafes. The worst one of the bad experiences is literally being thrown out for not ordering enough stuff.
I am very sure you have had some mixed experiences too. It is a love ❤️ and hate 💔 thing. Do you agree? The accumulation of these bad experiences is what led me and my team to create GoFloaters (Got time and curious? 👉🏽 GoFloaters story on YourStory). If you are planning a meeting at your favorite cafe, be ready to face some of these challenges and plan accordingly. Alternatively I will share a better way to do your meetings for which I am hoping that you will thank me 😃
Challenges with having your meeting at a cafe
I list here the top of the mind bad experiences that I have had over the years.
Fixing the location
Unless you have a favorite spot that you always go to, working out which cafe to have your meeting is a hit or miss process. Which cafe is mutually convenient to all the attendees? Can you have your meeting there peacefully? How much would it cost?
Getting your spot
Some cafes have gotten so popular for meetings that you will have to be either supremely lucky or talented to get a spot there. Many times I have had to shift the meeting to another location as every nook and corner was taken at our chosen cafe. Where do you park your car? Now that is another big pain.
Sorry, can you come again?
Unless you pick a no-name cafe or an odd hour for your meeting it is very unlikely that you will not have noise to fill your ears. Sometimes it gets hard to just hear yourself speak. One thing which is not on the menu is "privacy".
What you said and what I heard
Close on the heels of the noise factor, you need to add the distraction factor. There is no way that you or your attendees can hold your attention to the meeting at hand. There are just way too many distractions and you can't dodge them all. Hey, is that a brownie ice cream sizzler? Which new car is that? I have seen this guy somewhere. What are those two guys talking about?
Money matters
What is your entry ticket to a cafe? Food and drinks. Cafe managers like meetings at their places. These meetings draw people in and make the place buzz with action. Their eyes also light up with the anticipation of billing you in thousands. A two hour meeting for four can cost you anywhere from Rs 800 to Rs 2000 depending on what you pick from the menu.
The cold stare
Be ready for the cold stare and the pass by walk from a waiter or the manager if you have been warming the seats without ordering enough. If you give that a pass a few times then you could hear the manager say "Sir, this is a busy time for our cafe. Other customers are expected. If you are done, then can you kindly leave." This is the polite version, I have been served the non-polite version too.
Shucks. My laptop is out of charge.
This sounds familiar. You are giving a presentation, and your laptop is dead low on charge. You have no plug points around you. There is one plug point in the wall near a table where a young couple is having a cozy conversation. What do you do?
Why fi? Wifi?
Getting connected to the cafe's wifi and being able to use it is like you waking up to a gift by your bedside. You wish it would happen, but it hardly does. Carrying your dongle along or hotspot your phone is what you end up doing. The end result is that you need to all stare at a blank screen where Chrome loads in ultra slow motion.
Those are 8 challenges that are top of my mind. I am sure you will have a few frustrating or funny moments from your meetings at a cafe.
The "serious" meeting space solution
Don't get me wrong, meetings at cafes are great. Just because you have these challenges one is not going to stop using cafes for meetings. There is a certain charm and a "cool" factor for you to have a meeting at a cafe. It is certainly the primary option for casual meetings. How about serious meetings? Cafes? No. Not at all.
What do you do then if you need to whiteboard your thoughts? What do you do when you need to share your screen with more than one person? What do you do when you have someone else across a phone line or a video conference? What do you do when you need everyone's attention to solve a tricky problem?
Enter meeting spaces that you can book by the hour! Call up a few coworking spaces, ask them for availability, ask them if it has the amenities you need, haggle for the best rates and show up to have your meeting. In other words, spend half a day of your super precious time to book a meeting room. If you have a secretary who can do this for you, then great. Most of us don't and it is frustrating to do all these calls, compare rates and amenities and spend 4 hours to book a meeting that lasts 2 hours? How is this better than the cafe option you ask? I agree this way of booking a meeting room at a coworking space is equally bad. Unless you do it the smart way 😇.
Here is the smart way
🗺 Search for meeting spaces on
GoFloaters app
🔍 Discover the amenities, rates and the operating times of the spaces
🎟 Book and pay for the space for the date and time
Happy meeting!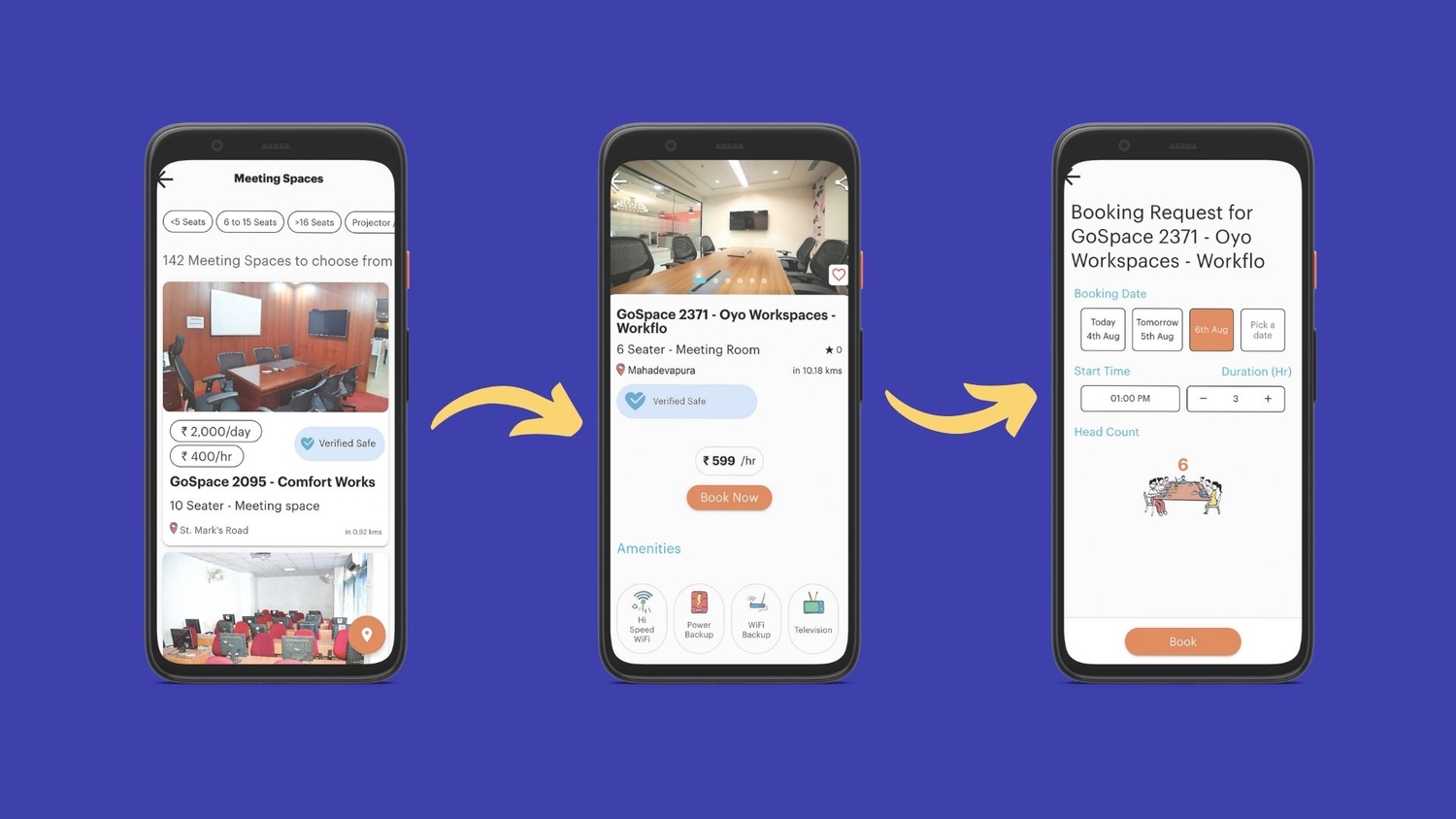 Scores of people are booking with GoFloaters everyday for the following kind of meetings:
Interviews
Sales team meetings
Team meetings
Presentations
Review meetings
New employee onboarding
Brainstorming discussions
Now if any of the above meetings is of the "serious" kind for your team, then you should certainly look beyond a cafe and look at a meeting space that caters to your requirement.
So what can you expect from GoFloaters Meeting Spaces?

Get the right space at the right price at the location you want. Some meetings deserve a better place than a cafe. Sometimes the meeting attendees deserve better than a cafe.
Happy meetings!